Dongfeng duolika used dump trucks for sale

Dongfeng 4x2 dump truck
Dongfeng duolika twin cab dump truck, adopts dongfeng duolika S model narrow driver cab, 3300mm wheelbase, Changchai 4F20ATCI 60KW/82hp Euro 4 diesel engine, 192 truck axle, 7.00-16 tyre, 12 Volts electronic line, power steering, air cut brake,
26(A85)transmission, etc.

The overall dimension of dongfeng twin cab is 5995×1940×2340; and the cargo body dimension is 3300×1880×600. Dongfeng twin cab small tipper truck, adopt high quality carbon steel(stainless steel is optional). Read door tipping.
Dongfeng twin cab dump truck for sale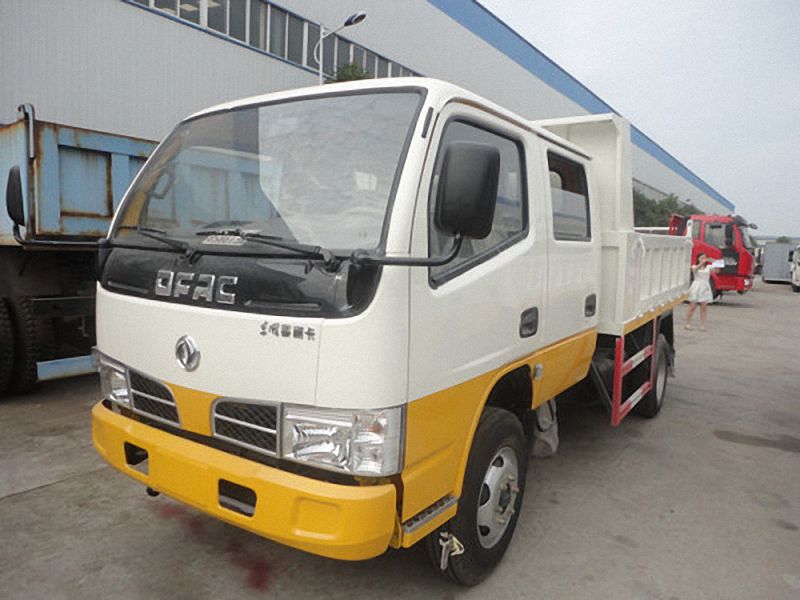 Main parameters

Dongfeng twin cab Euro 4 dump truck for sale

Total mass(Kg)

4495

Truck volume(m3)

Rated mass(Kg)

1750,1685

Overall dimension(mm)

5995×1940×2340

Curb mass(Kg)

2420

Cargo body dimension (mm)

3300×1880×600

Driver cab person

2+3,3+3

Max speed(km/h)

95

Approach/departure angle(°)

19/12

Front/rear suspension (mm)

1032/1663

Axle nos.

2

wheelbase(mm)

3300

Axle load (Kg)

1800/2695

Driver cab

Dongfeng duolika S model narrow driver cab

remark

the tipping way is rear door tipping.

Chassis main parameters

Chassis model

DFA1041DJ35D6

Manufacturer

Dongfeng

Overall dimension (mm)

5845×1900×2220

Tyre nos.

6

Approach/departure angle(°)

19/16

Tyre specification

7.00-16 8PR,

Steel spring

8/9+5,6/8+4,6/6+5

Front tread(mm)

1506,1404,1490,1441

Fuel type

Diesel

Rear tread(mm)

1466,1458,1516,1500

Emission standard

Euro 4

Engine main parameters

Engine

Manufacturer

Displacement (ml)

Power (Kw)

4F20ATCI


Changchai

1995


60
Note:
1.All the data above is for reference ,we keep the right to improve our product.
2..Price will be changed depending on the exchange rate and amount.
A dump truck (known in the UK as a dumper/tipper truck) is a truck used for transporting loose material (such as sand, gravel, or demolition waste) for construction. A typical dump truck is equipped with an open-box bed, which is hinged at the rear and equipped with hydraulic pistons to lift the front, allowing the material in the bed to be deposited ("dumped") on the ground behind the truck at the site of delivery.

Features of Dump Truck
1. The chassis is purchased from some domestic famous companies, such as China Dongfeng Automobile Company, China Dongfeng Motor Limited Company, China Dongfeng Automobile Limited Liability Company, FAW Jiefang, Sino Truck, Beiqi Foton Motor, Hualing Heavy-duty Truck, Northern Benz, Shaanxi Automobile, Jianghuai Automobile, and Jiangling Motors.
2. The dump truck is mainly composed of hydraulic system and operating system.
3. Its two hydraulic cylinders are made by domestic well-known companies.
4. The carriage is made of carbon steel and stainless steel whose thickness is in the range of 5 to 20mm. It can rotate automatically to unload goods. Its cycle time is less than 60s.
5. The shape of carriage could be U-shaped or V-shaped. The carriage also can be designed with back door, side door, ternary door or more.
6. Seal cover is optional. Users can open the seal cover manually or hydraulically.

Applications of Dump Truck
Our dump truck can transport coal, ores or various building materials such as limestone, sand, stones, earth, and other bulk materials. It can be used together with loading machines for mass transportation

The dump truck is kind of special truck self-discharging goods by hydraulic lifting or mechanism lifting. It is also called tipper, made up of chassis, hydraulic lifting mechanism, van, PTO, etc. In engineering, the dump truck is always working with digging machine/vehicle, loader, band conveyor, etc. with a production line of loading, transporting, unloading, loading, unloading, and transporting earth, freestone, bulk cargo, etc.

The maintain technical
The new dump truck of after mending dump truck must be trial operating, making the van lifting safety and steady. Every part of the dump truck should choose the right lube oil, much more saving discharging time and manpower, the lifting mechanism should be strictly change lube oil. The dump truck cannot be overload, according to the rated mass.

Dump truck types:
outlook, single axle dump truck, double axle dump truck, flathead dump truck, long head dump truck, front four and rear eight dump truck, 2 axles tipper semi-trailer, 3 axles tipper semi-trailer, etc.
Usage: agricultural dump truck, mining dump truck/tipper, garbage dump truck, coal dump truck/tipper, engineering dump truck, sewer dump truck, etc.
Driving type: 6*4, 8*4 dump truck and tipper semi-trailer, etc.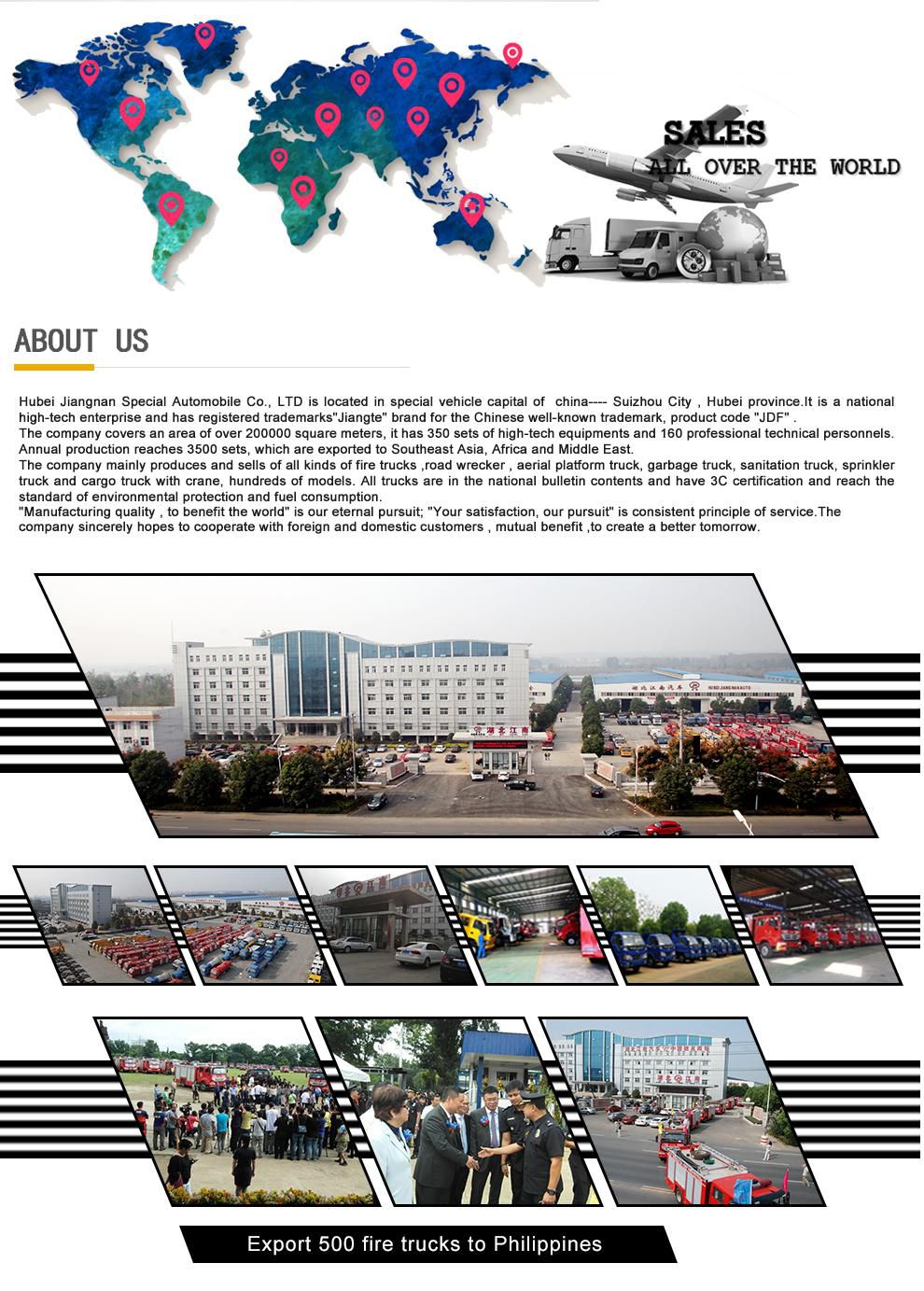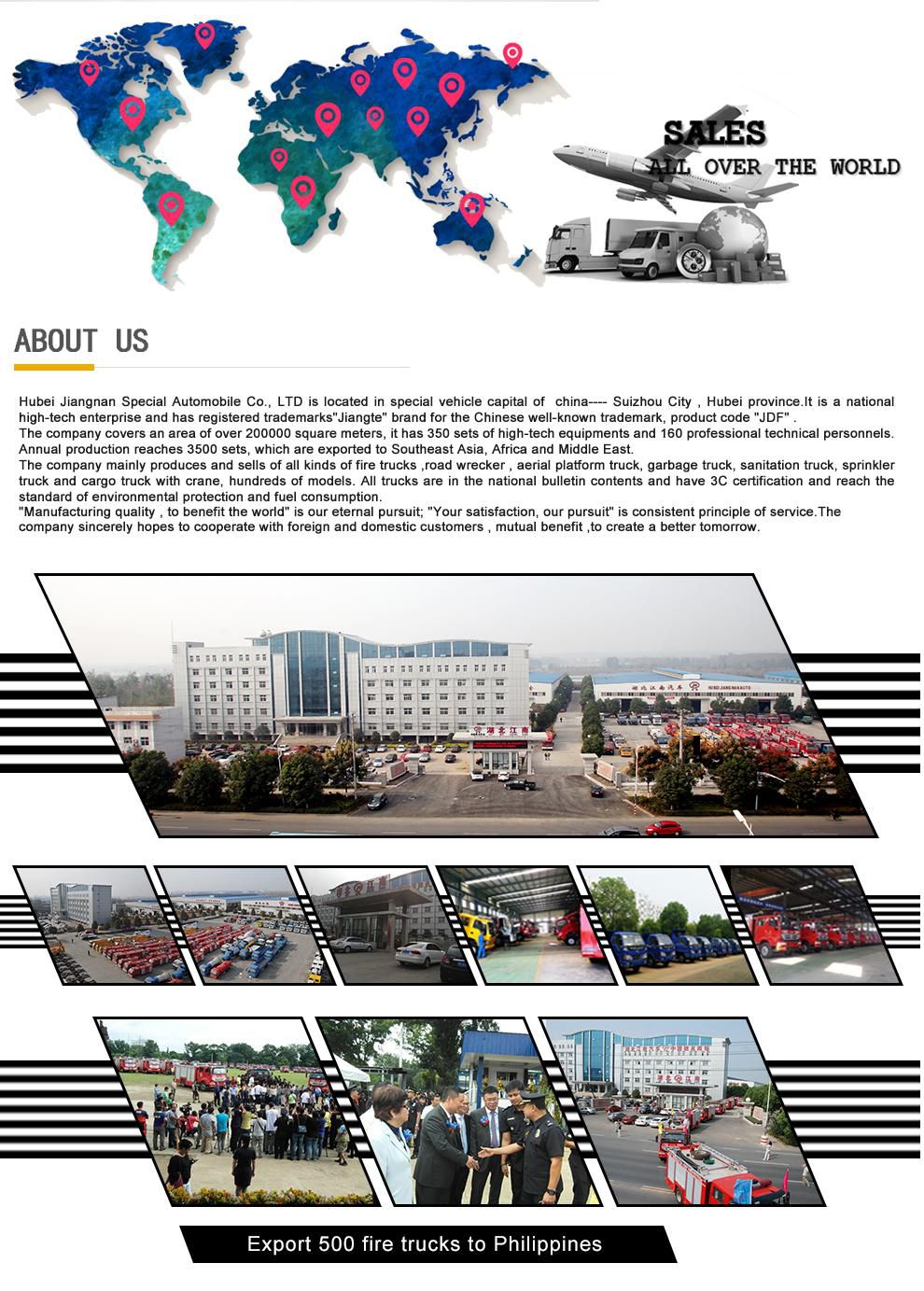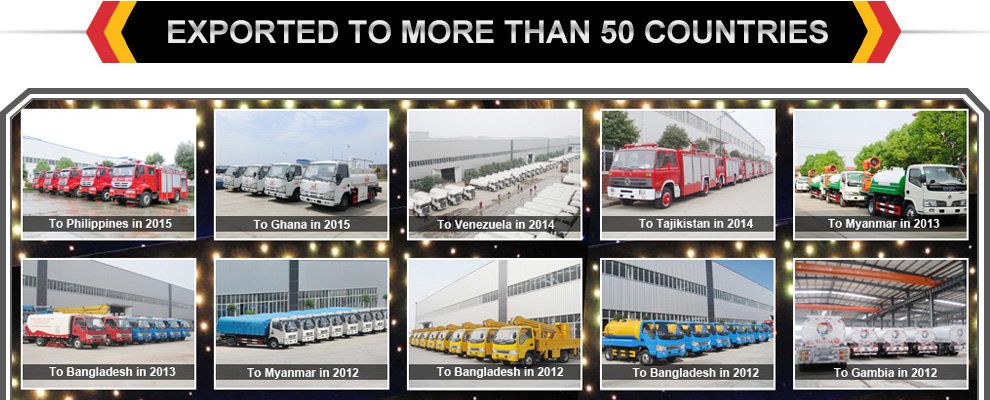 We can produce 300kinds of different special vehicals for customers:
1. LPG Tank Truck Trailer/ Fuel Tanker Truck
2. Water truck / Water Tank Truck / Water Sprinkler Truck/Water Tanker
3. Truck with crane / Truck mounted crane
4. Dump Truck / Tipper Truck/Side Tipper/End Tipper
5. Fire Fighting Truck / Fire Truck / Fire Vehicle
6. Concrete Mixer Truck
7. Van truck / Blasting equipment transporter/ Refrigerated truck
8. Fecal suction truck / Sewage suction truck,
9. Cement Powder Tank truck/ Bulk cement truck
10. High-altitude operation truck,
11. Self-loading garbage truck, garbage compactor truck,sealed garbage truck
12. Tractor
13. High Pressure Cleaning Truck
14. Sweeper Truck
15. Semi Trailer ( flat bed trailer / skeleton trailer / dump semi trailer / side wall trailer / low bed trailer / van container trailer / warehouse trailer, etc. )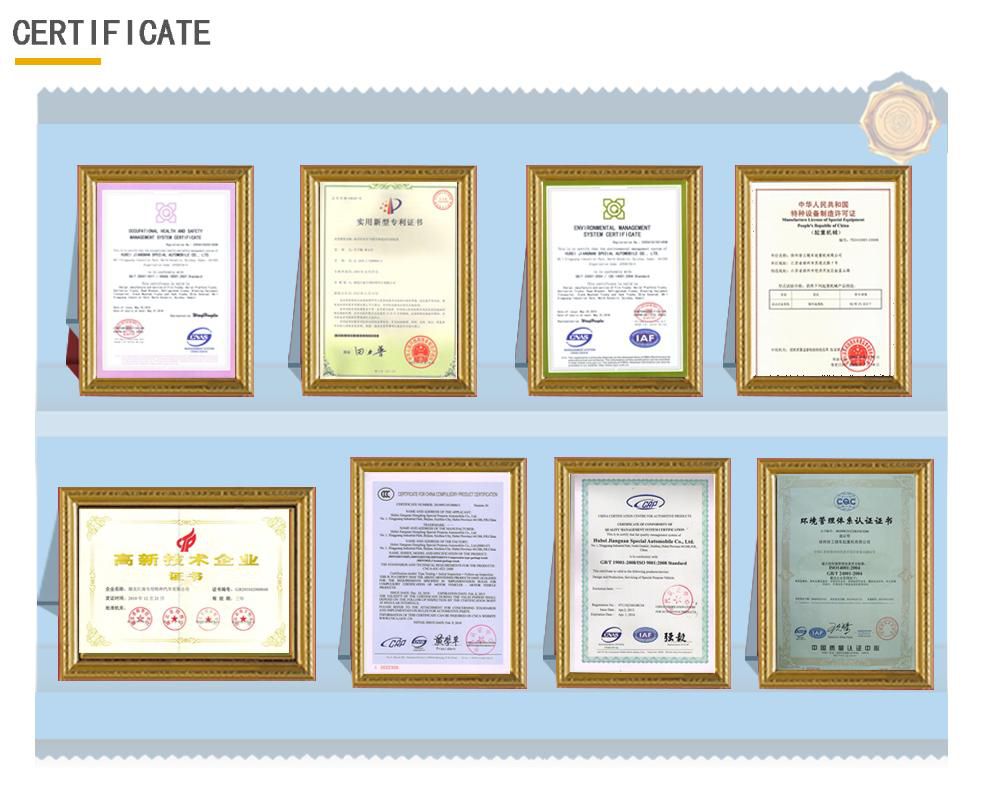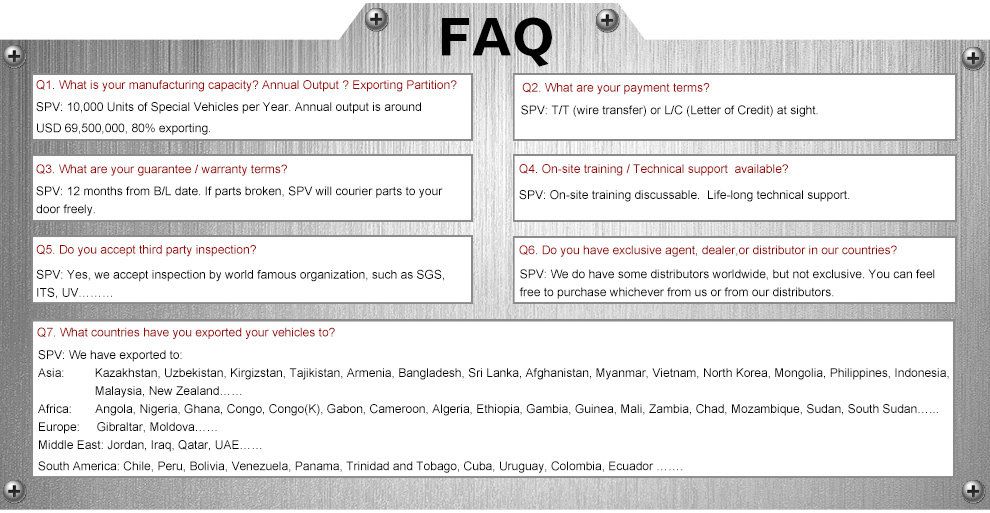 Группа Продуктов : Самосвал