used potable water bower cart tender trucks for sale

SINOTRUK 6X4 water tanker truck
Density: 1000 kilograms/cbm;
Effective volume of tank: 20cbm;
Size of the tank body (long x long axis x short axis): 10155×2496×3450;
Side protection and rear protection device material Material: Q235, all is the whole type structure;
Rear Protective device height: 480mm;
ABS model: cm4xl-4s/4k (4s/4m), ABS production plant: Guangzhou ke mi Automotive Electronic Control Technology Co., Ltd.
SINOTRUCK STEYR 20TON WATER TANK TRUCK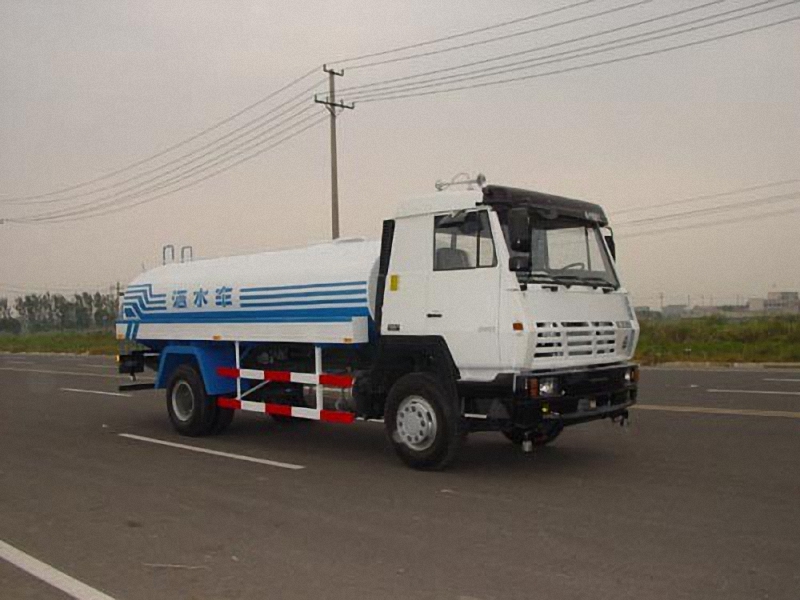 Summary

This vehicle is reffitted from original SINOTRUCK chassis (Model:ZZ1256M4646F ) with compact structure ,

Basic Information

Vehicle name

WATER TANK TRUCK

Chassis:

ZZ1256M4646F

Outline size(L×W×H) (mm)

10155×2496×3450

Cargo inline size(L×W×H)(mm):

/

Rating mass(kg)

20000

Empty mass(Kg):

12980

Full mass(kg)

32980

Emission standard

Euro 2

Engine Information

Model

WD615.87

Type

6 Cylinder Diesel engine

Power/displacement(KW/ML)

213/9726

Manufacture

Weichai Power Co., Ltd

Chassis Information

Wheelbase(mm):

4600+1350

Axle load(kg) F/R

Front :10000/Rear :25000

Tire

11.00-20,11.00R20

Max speed (km/h):

90

Front overhang(mm)

1560

Rear overhang(mm)

2645

Front track(mm)

1939

Rear track(mm)

1800

Approach angel(°)

13

Departure angle(°)

10

Steering

Power steering

Brake

Air brake

Cabin

Straight head ,single row with bed

Special function

Tank capacity(m³)

20m³

Tank size

6700×2340×1500

water pump REV

1450r/min

Suction height(M)

6

Trade terms

Quote Lifetime

30days (we promise the quote is effective in the lifetime!)

Payment terms

1. 30% by T/T in advance, 70% by T/T against the copy of Bill-of-Lading.

2. Letter of credit payment for some countries and regions.

Deliver time

10workdays for LHD , 20workdays for RHD after receive 30% earnest money

MOQ

1set

Supply quantity

2,000sets/year

Package

waxing















Note:
1.All the data above is for reference ,we keep the right to improve our product.
2..Price will be changed depending on the exchange rate and amount.
Water trucks are commonly used in mining applications, primarily for dust control. Water trucks usually consist of a series of spray nozzles equipped with the mechanics to pump and spray water to remove overburden or to hydrate mines when they become dry. The trucks are different from a typical truck in that they must be able to contain a large volume of water, requiring special tank specifications and mounting apparatuses to include spray nozzles and associated equipment.
The construction industry uses them for compaction, dust control and fire-prevention and protection. The entertainment industry also uses water trucks for street wet downs, fire control stand-by and many other reasons. Water trucks are used also used by the fire-fighting industry in battling forest fires.
A special type of water truck called a potable water truck is a water truck or water tank trailer that supplies bulk water for human consumption to people living in areas that don't have access to a public water supply or a water well. They may also be used for filling up swimming pools, fire-camp service and in major sporting events.
Also water truck can be classified as diesel water truck, gasoline water truck, electric water truck, and water tank truck according to driving force. It also can be divided into 6×4 water truck and 8×4 water truck according to drive mode.
Features of water truck
1. The water tanker is equipped with front sprinklers, rear sprinklers and side sprinklers. So it can spray water in every direction.
2. The water cannon is installed in rear working platform. When it shoots straight stream, its effective range is above than 28m. When it shoots mist flow, its effective range is above 15m.
3. The equipment for spraying medicines, medicament tray, medicine feeding pump, water fittings, solenoid pilot actuated valve, and air-operated valve are available upon request.
4. It has functions of water carrying and water draining, and also can be used as fire pumper.
Applications of water truck
The water truck is widely used to spray water on pavements, trees, green belts, lawns, guardrails highrise, and more. It also can be used to spray agricultural chemicals.
Maintenance and Care
1. Users should strictly refer to operation instruction to maintain the classis and pump.
2. Users should run water wagon in before use according to operation instruction.
3. Anti-skid device is required for long-distance driving. Drivers should keep 200mm space with other vehicles.
4. The exit holes should be regularly checked to ensure no clogging.
5. The water should be completely drained off from pipes if water tanker will be not used for a long time.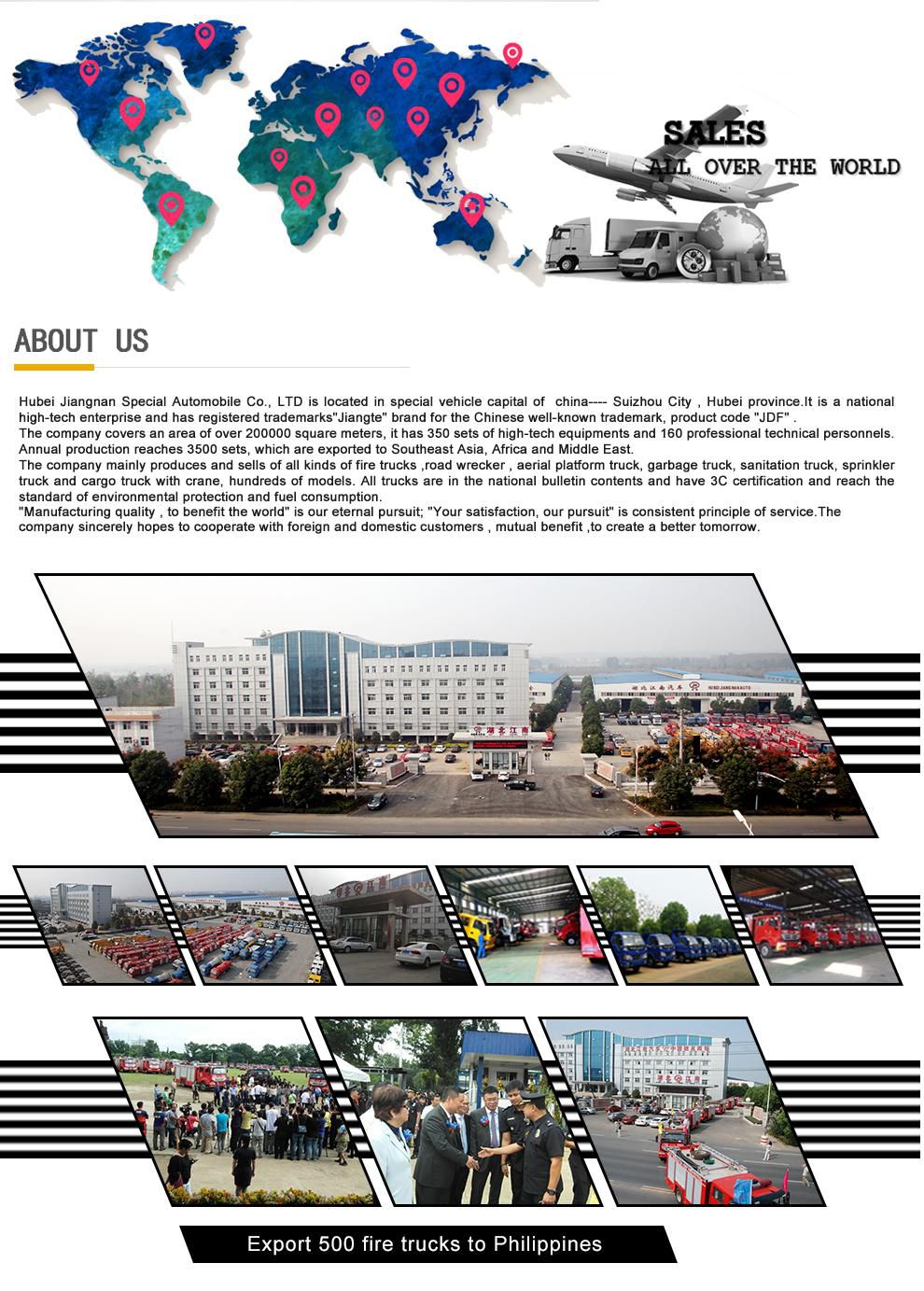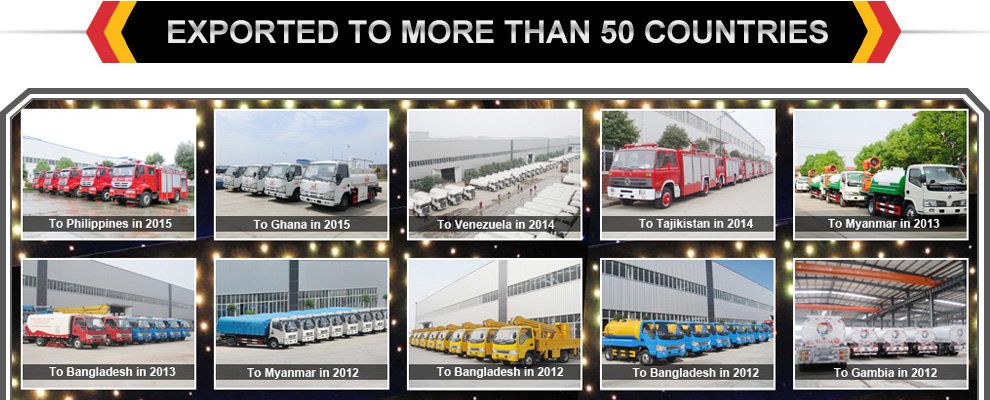 We can produce 300kinds of different special vehicals for customers:
1. LPG Tank Truck Trailer/ Fuel Tanker Truck
2. Water truck / Water Tank Truck / Water Sprinkler Truck/Water Tanker
3. Truck with crane / Truck mounted crane
4. Dump Truck / Tipper Truck/Side Tipper/End Tipper
5. Fire Fighting Truck / Fire Truck / Fire Vehicle
6. Concrete Mixer Truck
7. Van truck / Blasting equipment transporter/ Refrigerated truck
8. Fecal suction truck / Sewage suction truck,
9. Cement Powder Tank truck/ Bulk cement truck
10. High-altitude operation truck,
11. Self-loading garbage truck, garbage compactor truck,sealed garbage truck
12. Tractor
13. High Pressure Cleaning Truck
14. Sweeper Truck
15. Semi Trailer ( flat bed trailer / skeleton trailer / dump semi trailer / side wall trailer / low bed trailer / van container trailer / warehouse trailer, etc. )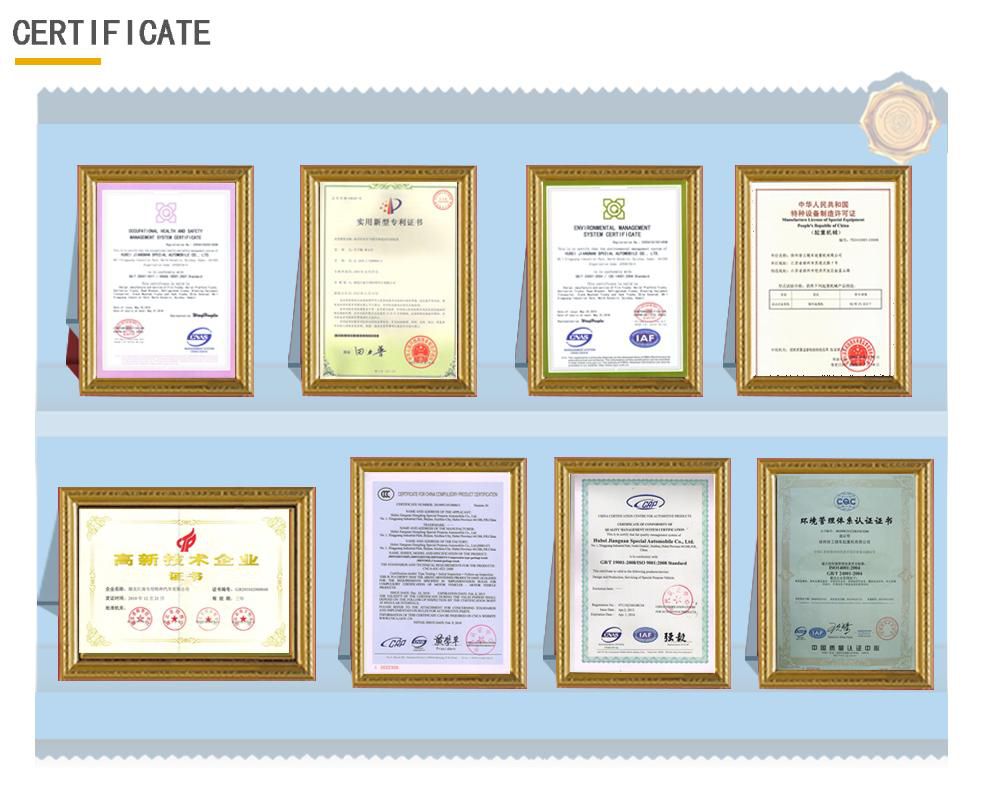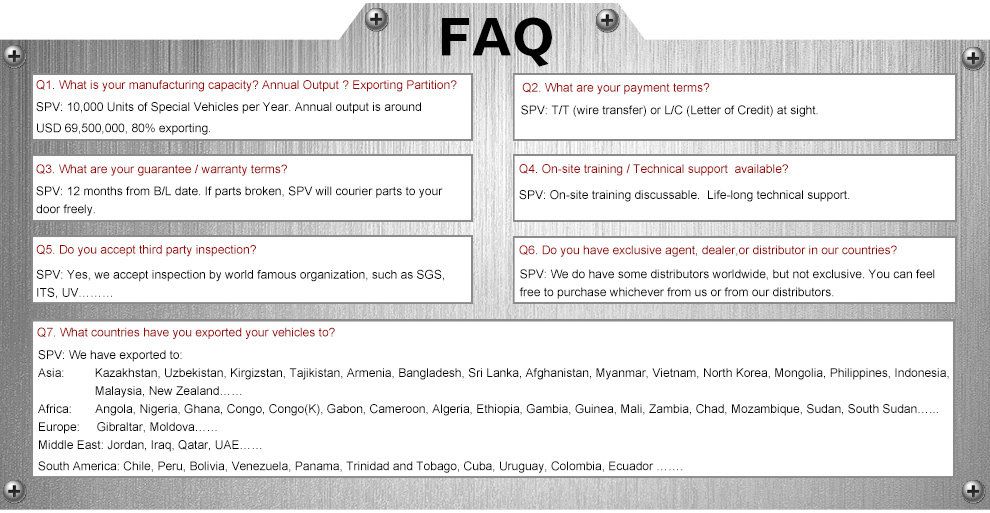 Группа Продуктов : Тележка Мочить